There will always be posts about great business card round-ups and the praises often go like 'Great business cards!' 'Beautiful business cards!' and sometimes i think not enough credit goes to the designers. Aside from credit it's quite interesting to hear the stories behind these business card and their owners.
For example is this card by Kevin Mitnick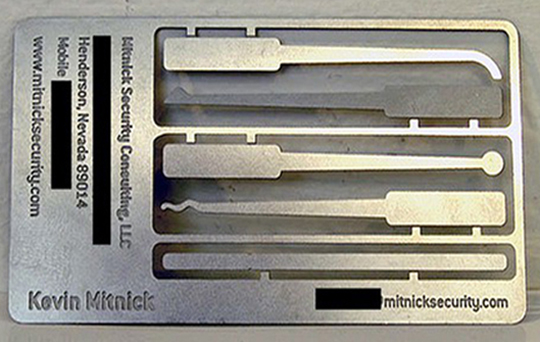 Although we're not sure as to whether he did design this business card, there's a rather interesting story behind Kevin Mitnick, as he was had previously been convicted of various computer- and communications-related crimes. Moreover, at the time of his arrest, he was the most-wanted computer criminal in the United States.
If you've read the book or seen the movie, Takedown (2000), well it's all about what happened to Kevin Mitnick.
Mitnick served five years in prison for his computer related crimes for  four and a half years and after serving time in prison, he now runs Mitnick Security Consulting LLC, a computer security consultancy, the business card for which, is seen above.
Yet another card you've probably seen around is Sam Buxton's 3-d metal business card.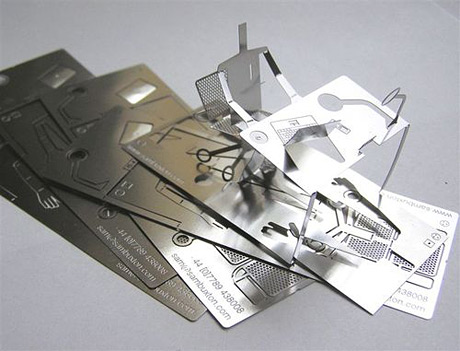 When Sam Buxton needed a business card rather than make "a boring printed card", he decided to devise one which would reflect his work as a product designer. By deploying a chemical milling process he had discovered in the electronics industry, Buxton created a flat fine stainless steel card the various parts of which unfolded into a 3-D replica of himself working at his computer. When a manufacturer spotted it in the Design Museum's 2001 exhibition Design Now – London, the business card was put into mass-production as the first in the series of MIKRO-Man fold-up sculptures.1
Here are more of the MIKRO-Man Fold-up sculptures: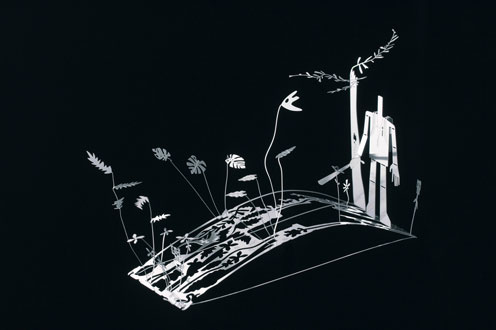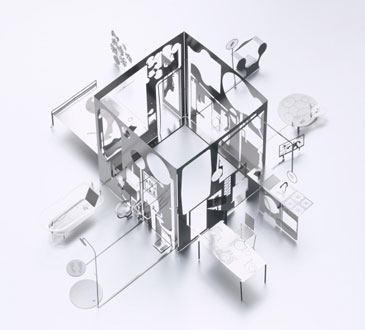 I'm seeing these cards by Eduard Cehovin a lot too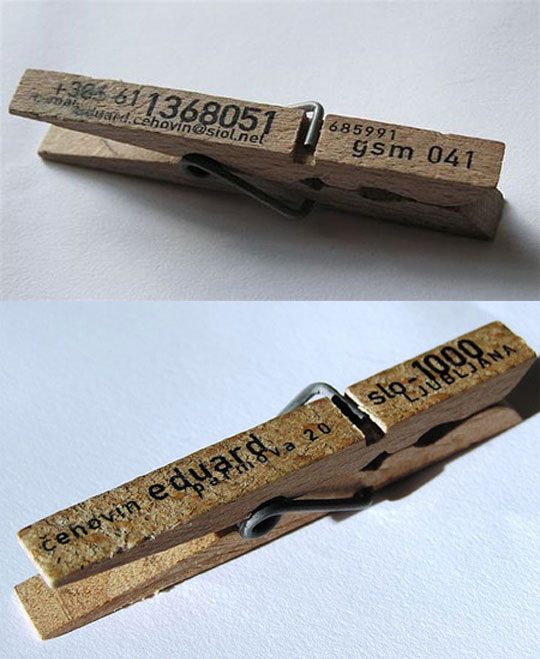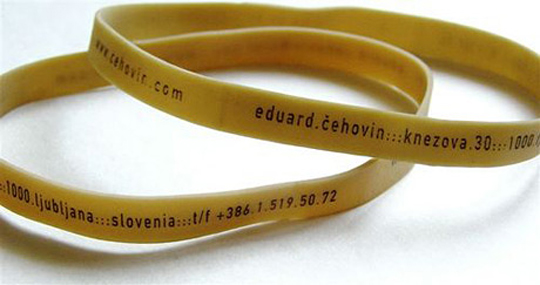 Cehovin is not limited to these fresh ideas for business cards. This Slovenian designer's other award winning works are true pieces of art as well. Check out his other works here at his official website.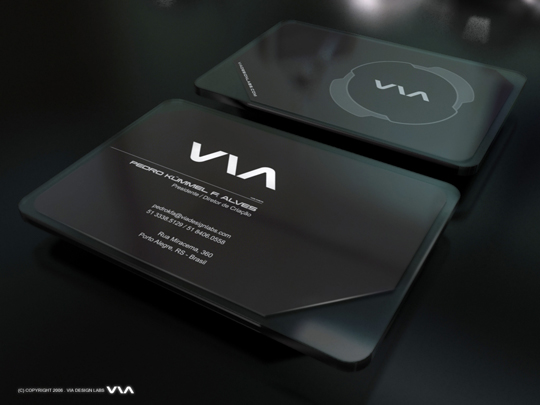 Although just a design concept, Pedro Kummel Alves card has been quite famous around the web. We've had quite a few people asking where they could get this kind of card but the designer told us that unfortunately, he himself haven't found a print shop that can print his business card for him.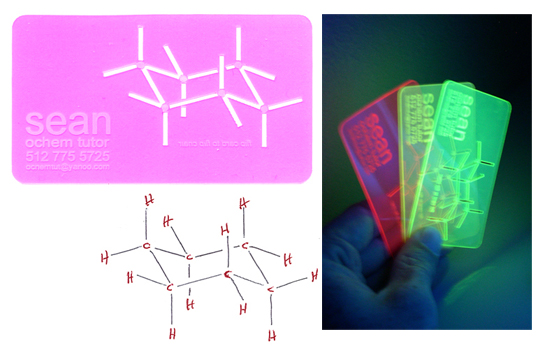 Both a designer and a chemistry teacher, Sean Ochem explains how his business card came about:
I supplement my income by working as an organic chemistry tutor. Austin is an enormous college town, and UT-Austin is full of budding pre-meds and scientists who have to pass two semesters of organic chemistry to graduate. One can work for a "tutor pimp" like House of Tutors, who verify tutors' credentials and connect them with students, or one can go it alone as an independent contractor. These days, the latter route really makes more sense, as the pimps take a pretty fair chunk of one's hourly rate as overhead, and free internet advertising makes it easy for lone operators to find student customers. An established independent tutor can make an hourly rate that is quite luxurious.

As is the case with many independent contractors, the best advertising a tutor has is word-of-mouth. To that end, it's worthwhile to distribute business cards to your students so they can pass them to their friends when they mention your name. Business cards tend to hang around longer if they serve some useful ancillary function to the bearer, which is why they're commonly printed with charts, tables, or other valuable reference information that might encourage a potential customer to keep the card close at hand.1
In the end i think it's rather impressive that these people's business card have become tremendously successful. Their stories can serve as an indirect inspiration when we make out own creations don't you think?